Food Banks of Saskatchewan Newsletter: August 2020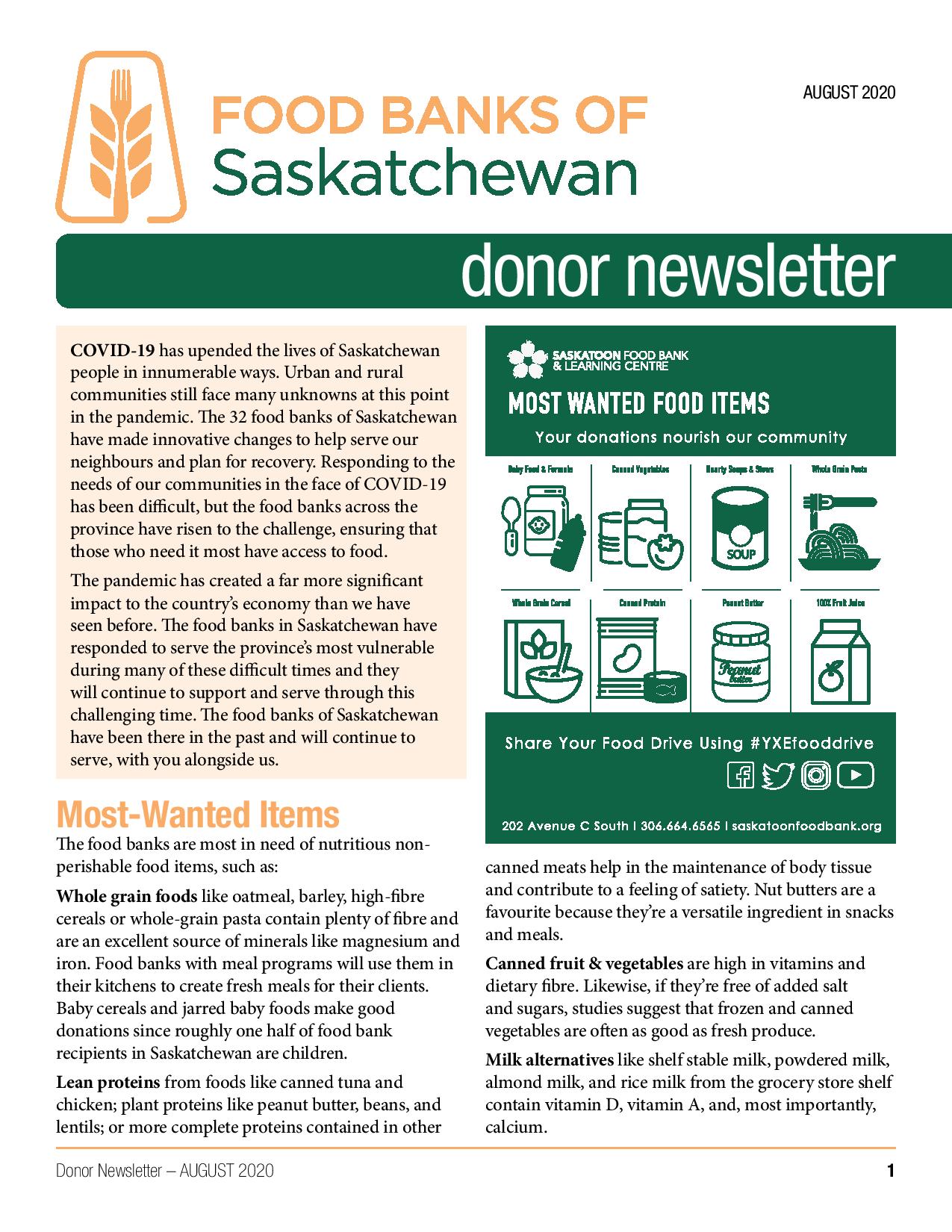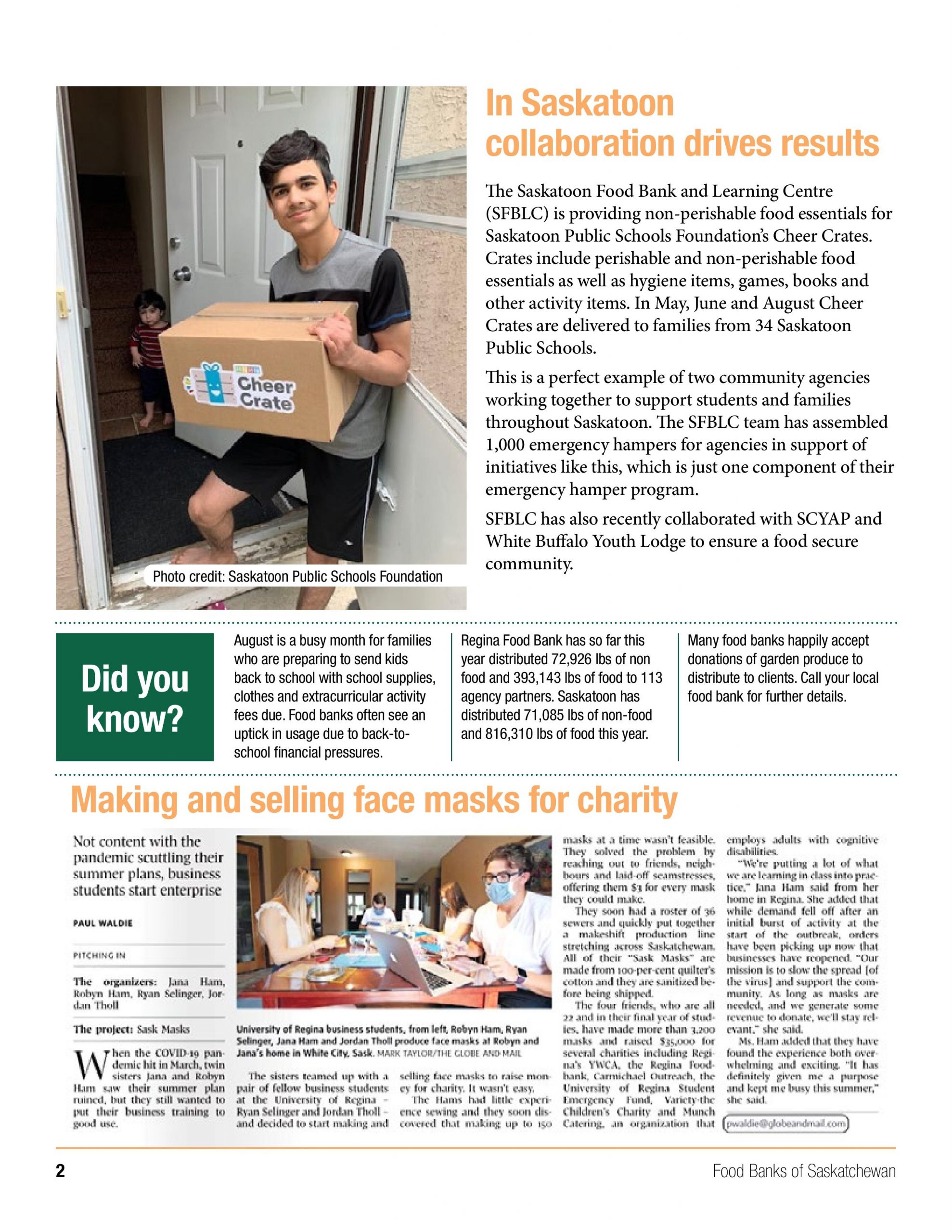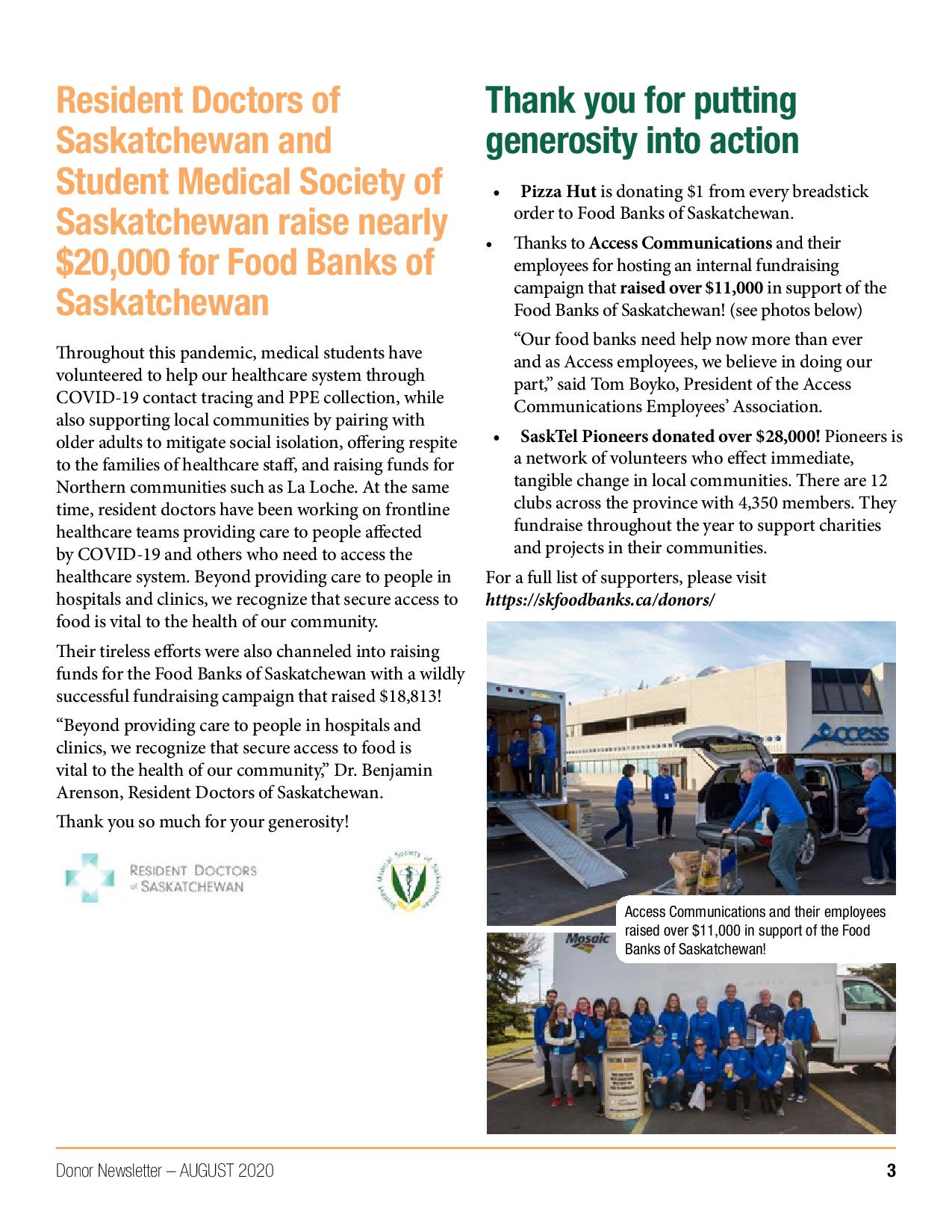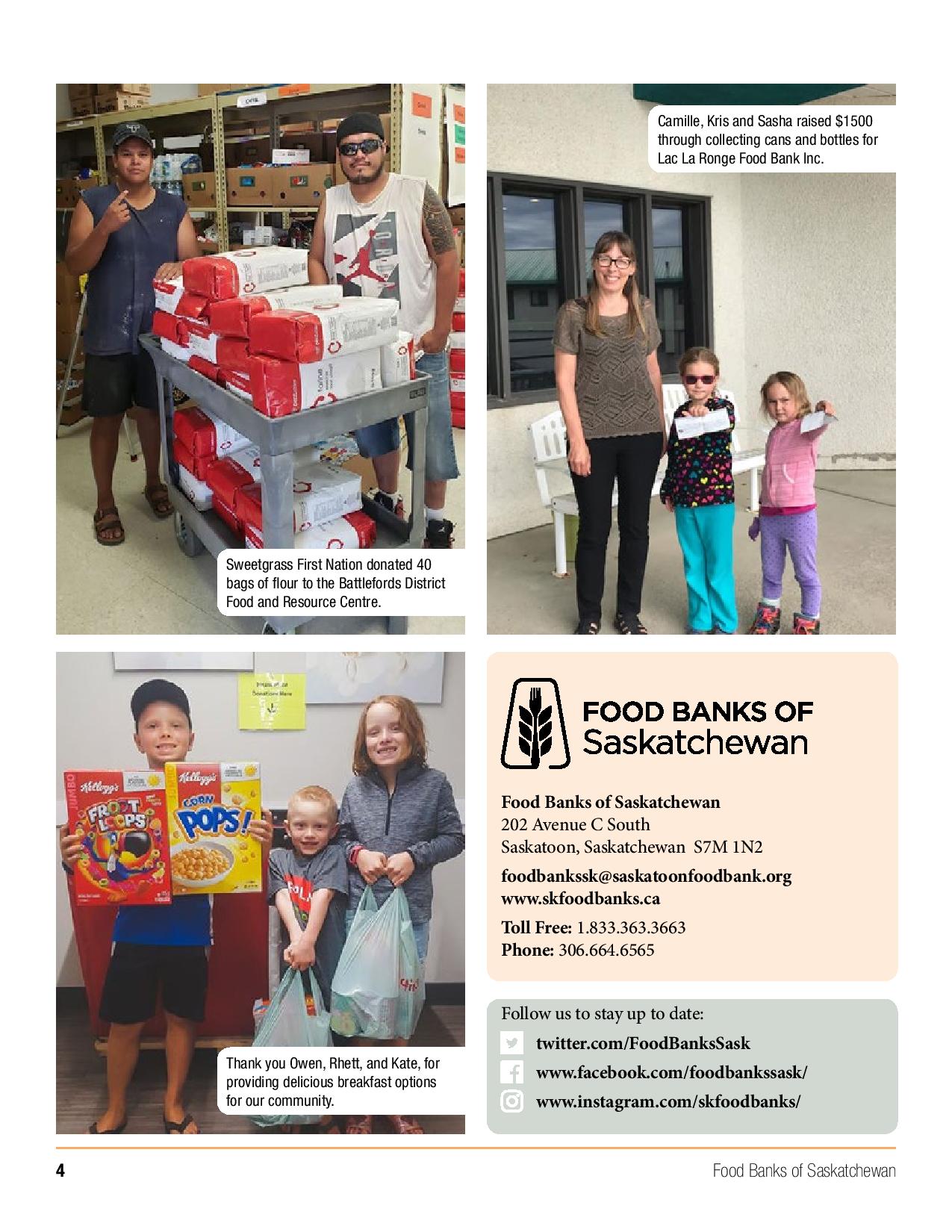 PDF Version: Food Banks of SK Newsletter August 2020
Food Banks of Saskatchewan Newsletter: July 2020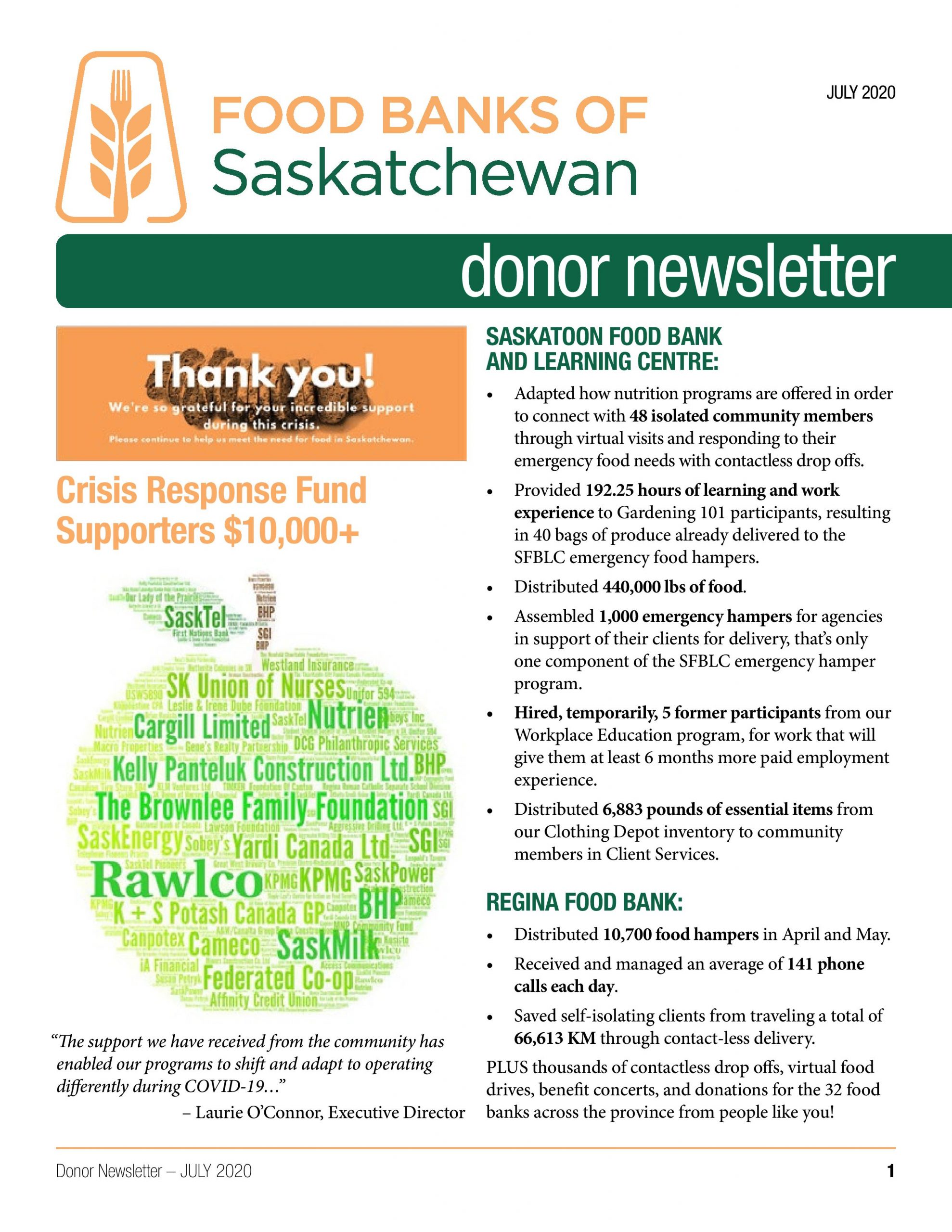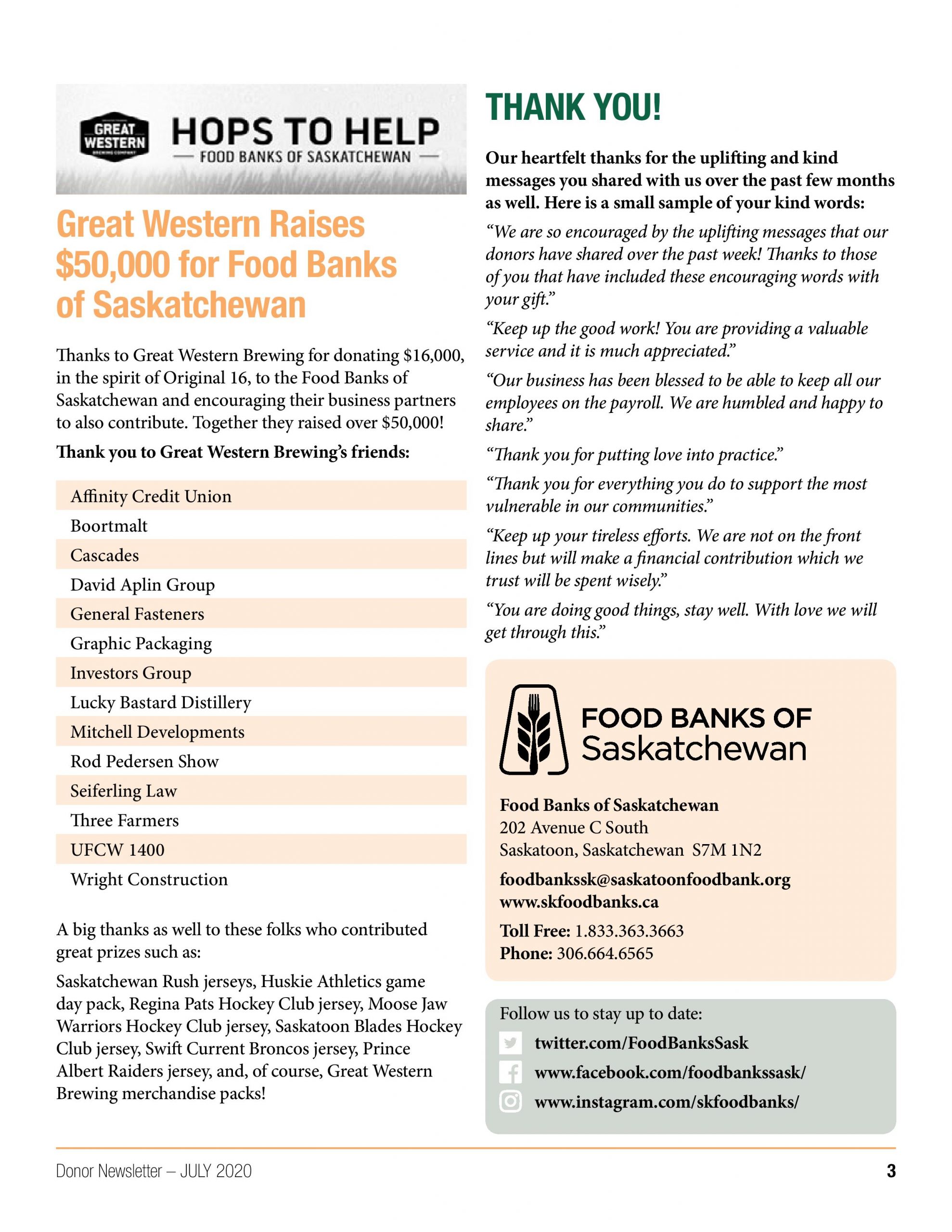 PDF Version: Food Banks of SK Newsletter July 2020
Food Banks of Saskatchewan Newsletter: June 2020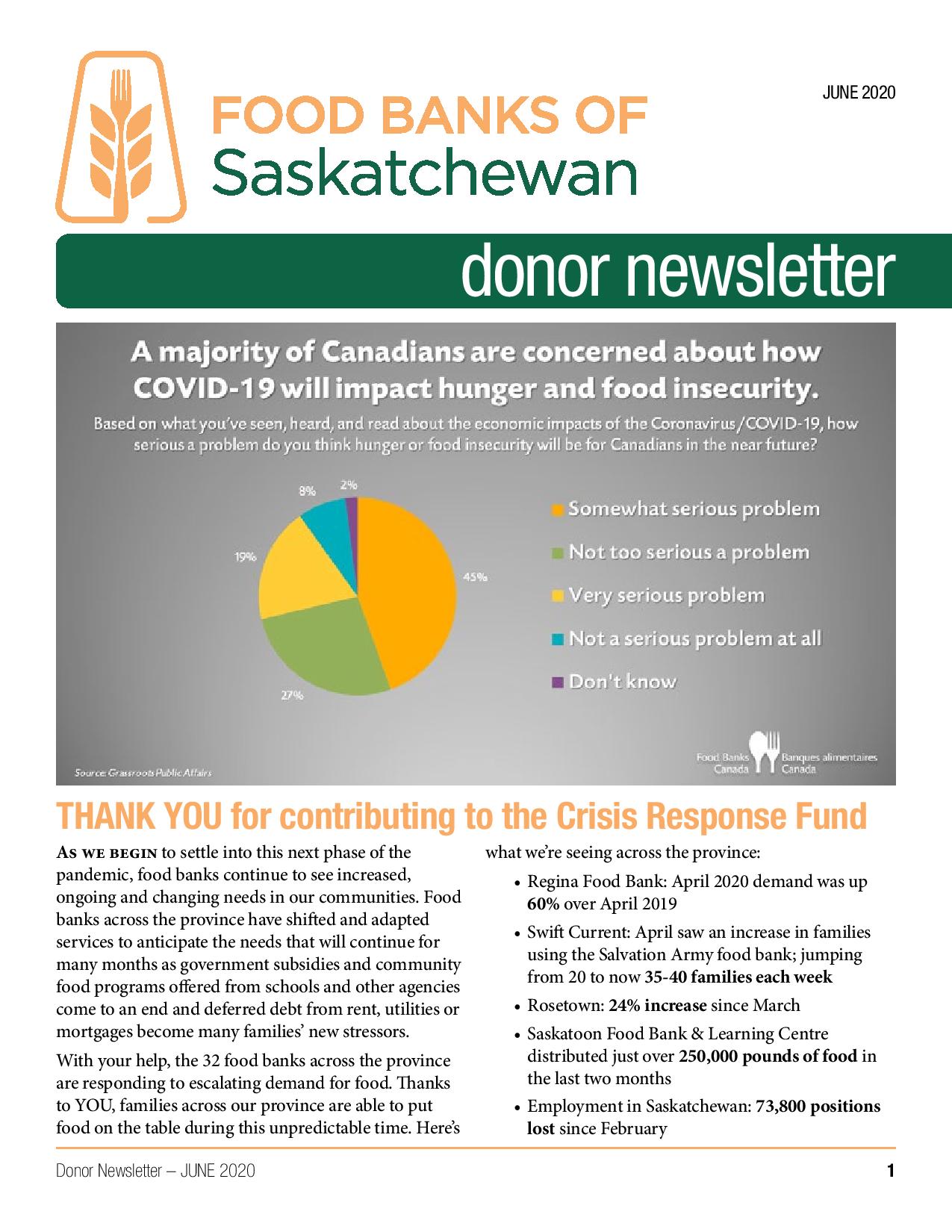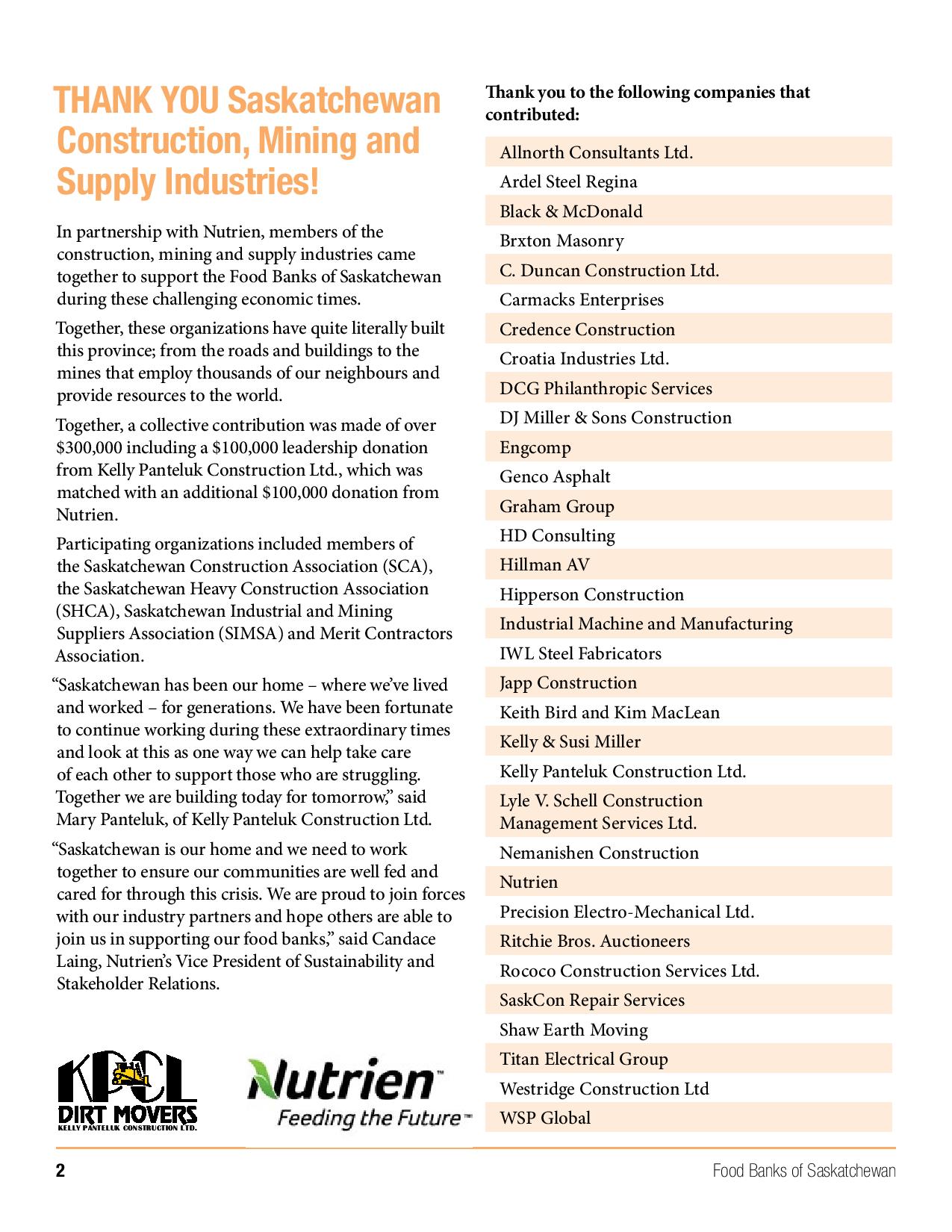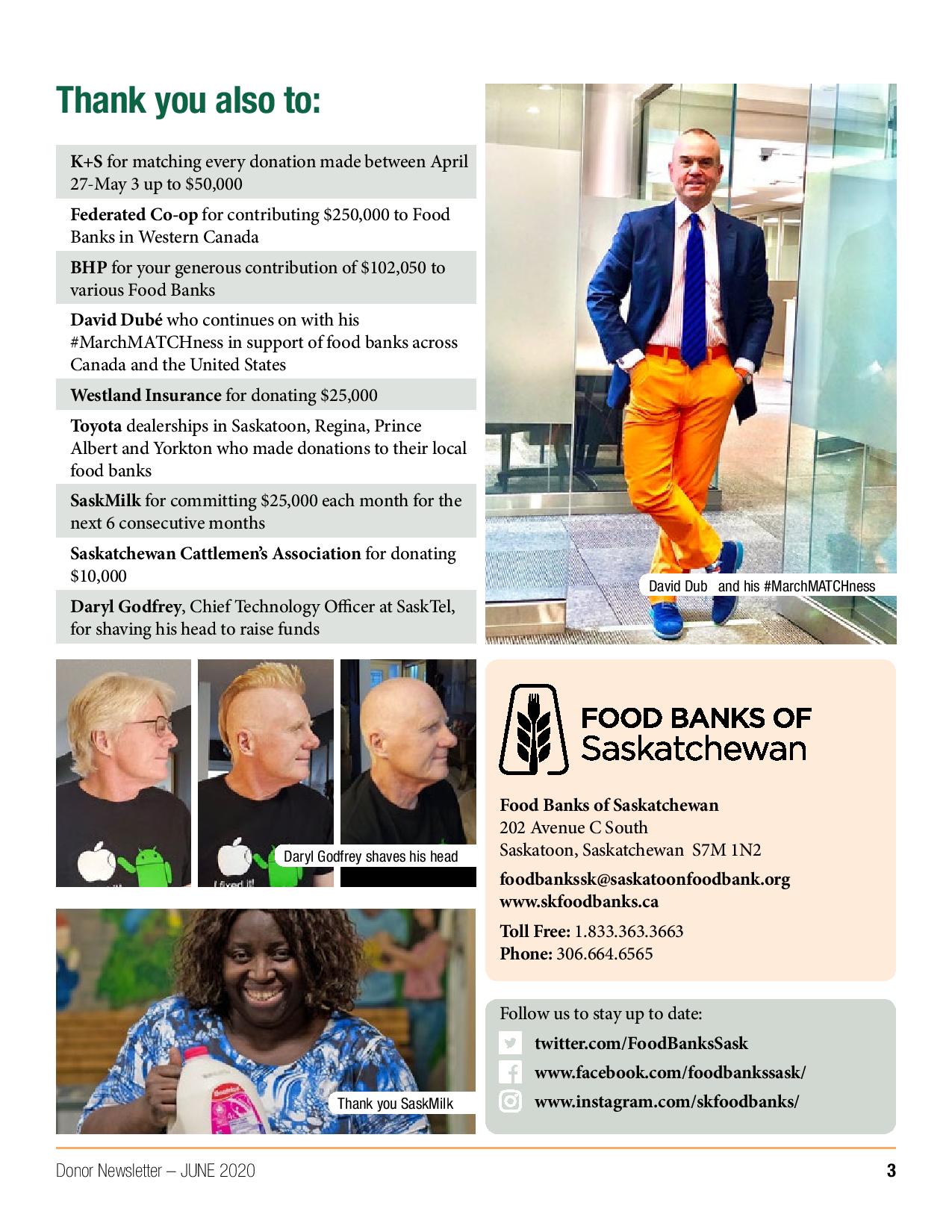 PDF Version: Food Banks of Saskatchewan June Newsletter
Feeding Saskatchewan Together
Saskatchewan Construction, Mining and Supply industries join Nutrien to support Food Banks of Saskatchewan
 Saskatchewan, May 25, 2020 – In partnership with Nutrien, members of the construction, mining and supply industries have come together to support the Food Banks of Saskatchewan during these challenging economic times. Together, these organizations have quite literally built this province; from the roads and buildings to the mines that employ thousands of our neighbours and provide resources to the world. This week, the Feeding Saskatchewan Together Campaign will be raising funds to support the Food Banks of Saskatchewan. The campaign will launch with an initial collective contribution of over $300,000 including a $100,000 leadership donation from Kelly Panteluk Construction Ltd., which will be matched with an additional $100,000 donation from Nutrien. Participating organizations include members of the Saskatchewan Construction Association (SCA), the Saskatchewan Heavy Construction Association (SHCA), Saskatchewan Industrial and Mining Suppliers Association (SIMSA) and Merit Contractors Association. 
The 32 Food Banks across Saskatchewan are on the front lines working to support the most economically vulnerable during this crisis. On average, the cost to supply food to those in need across Saskatchewan is estimated to be $1 million a month. "The support we are seeing from organizations and individuals across the province is remarkable and will make an incredible impact on those that we serve", said Laurie O'Connor, Executive Director of Food Banks of Saskatchewan. 
There isn't a construction or mining project in our province that doesn't require collaboration from multiple companies and suppliers, so it's only natural to see these organizations come together to support families in need across our province. "Saskatchewan has been our home – where we've lived and worked – for generations. We have been fortunate to continue working during these extraordinary times and look at this as one way we can help take care of each other to support those who are struggling. Together we are building today for tomorrow" said Mary Panteluk, of Kelly Panteluk Construction Ltd. 
The Food Banks of Saskatchewan launched the Covid-19 Crisis Response Fund in early April with the goal of raising $6M to support the needs of the community over the coming six months. Shocking to many, 40% of distributed food supplies are going to support children. 
"Saskatchewan is our home and we need to work together to ensure our communities are well fed and cared for through this crisis. We are proud to join forces with our industry partners and hope others are able to join us in supporting our food banks, "said Candace Laing, Nutrien's Vice President of Sustainability and Stakeholder Relations. 
The Crisis Response Fund has seen generous, unprecedented support from across the province. To make your contribution to the Food Banks of Saskatchewan Crisis Response Fund, please visit, www.skfoodbanks.ca. For more information on how your organization can support, please contact, [email protected] 
Food Banks of Saskatchewan Newsletter: May 2020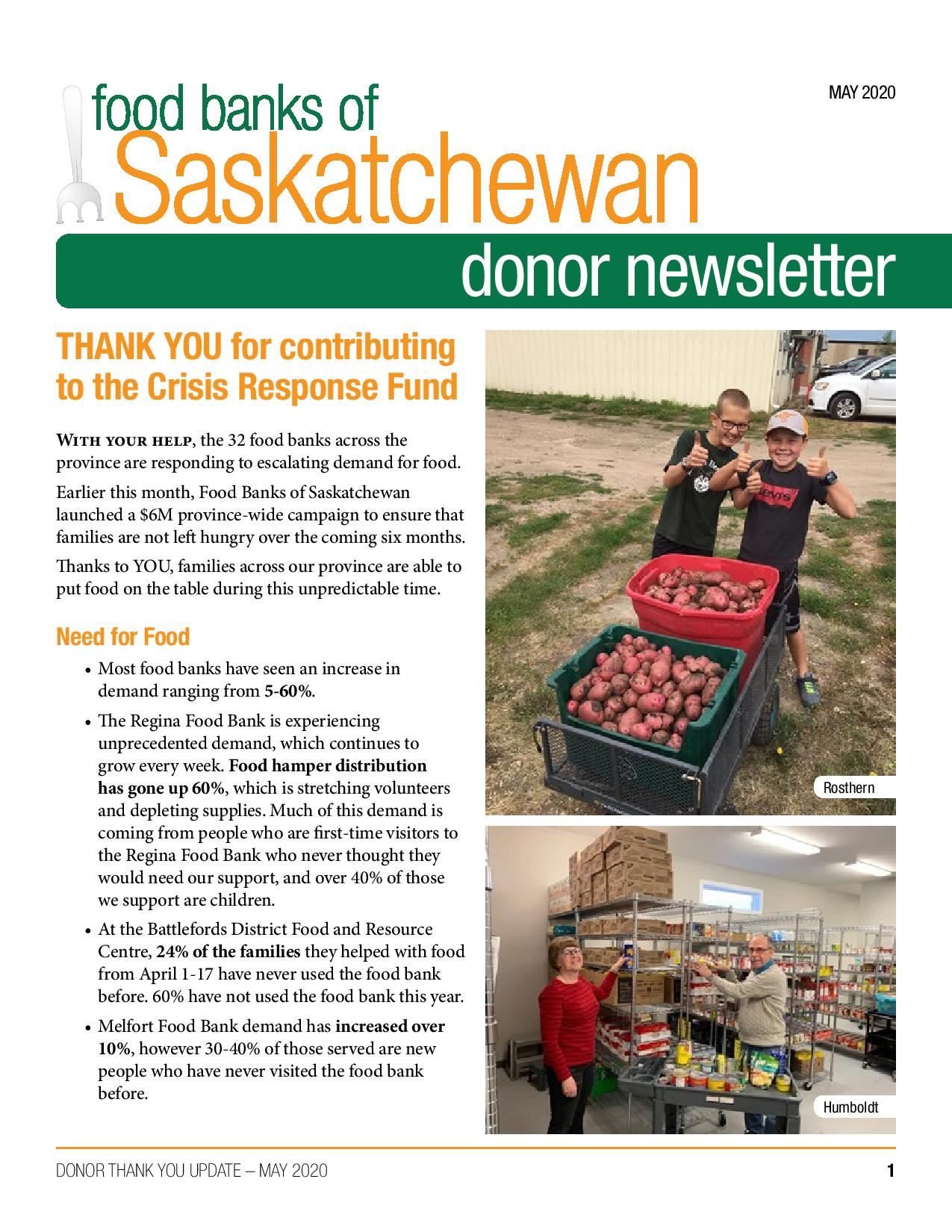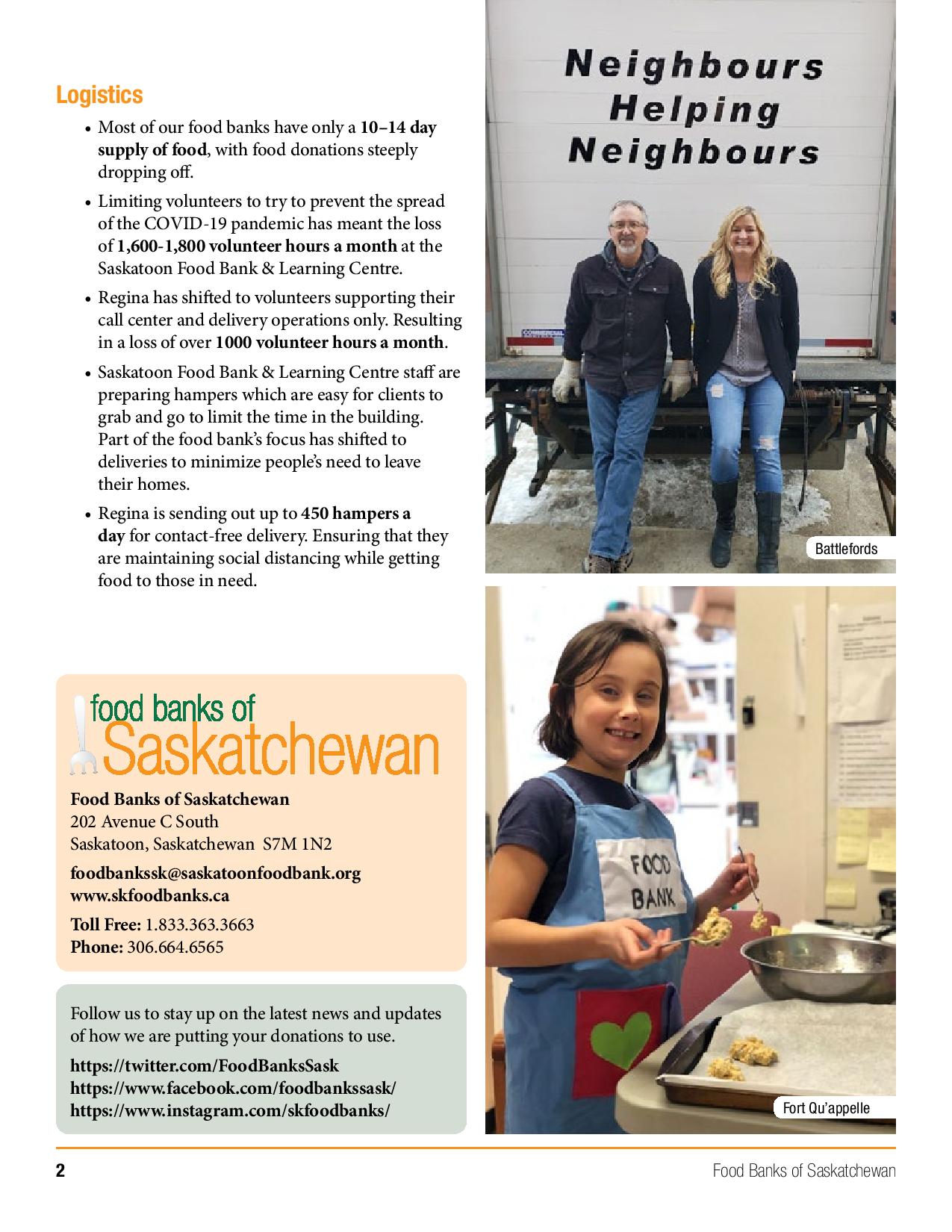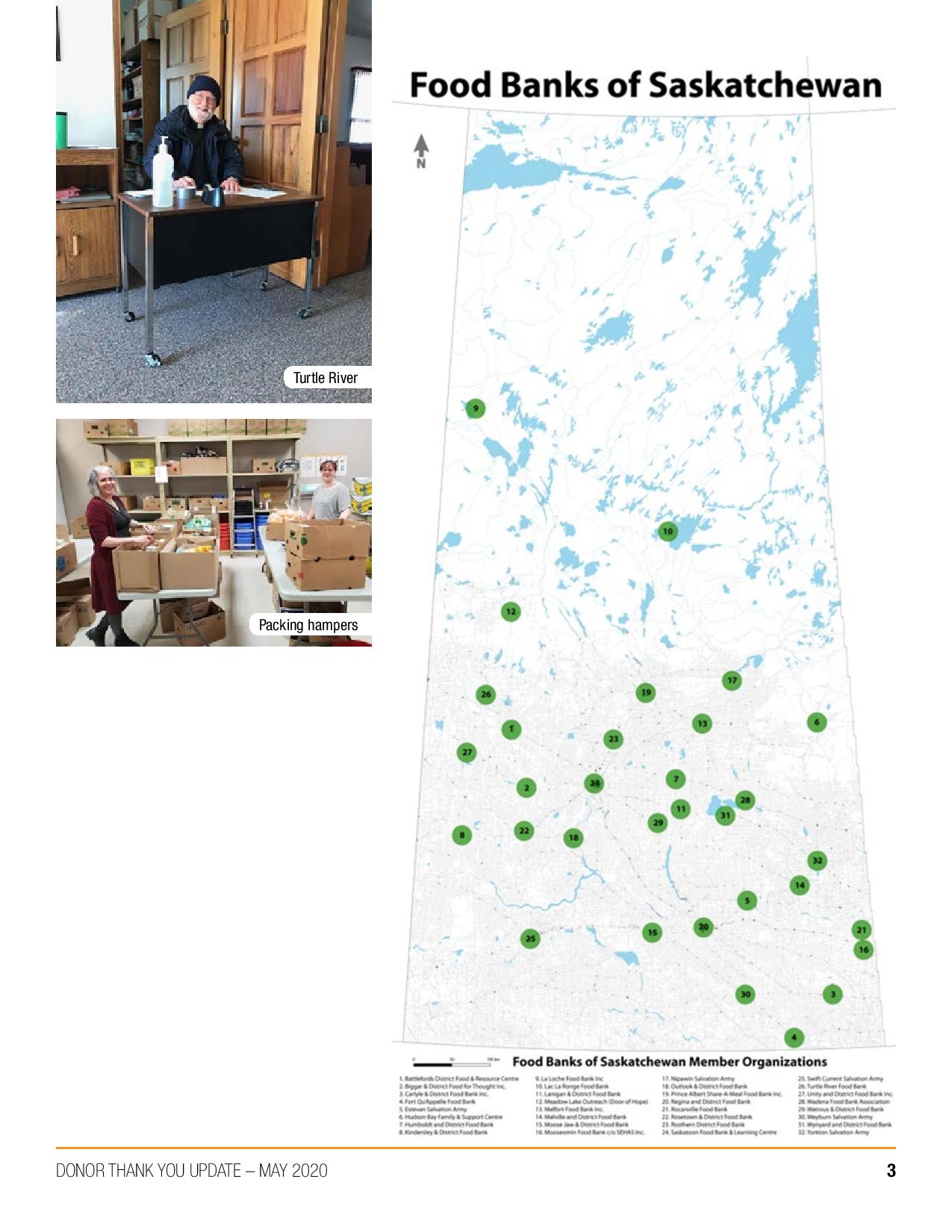 PDF Version: Food Banks of SK Newsletter May 2020
Food Banks of Saskatchewan Launches Province-Wide Crisis Response Fund
Unprecedented demand expected at Saskatchewan's 32 food banks due to the COVID-19 crisis
April 2, 2020
Saskatchewan – April 2, 2020 – Saskatchewan's urban and rural communities are facing a crisis unlike anything we've seen in our lifetime.
With an escalating demand for food from families across the province, the 32 Food Banks across Saskatchewan are in desperate need of financial support. Today, Food Banks of Saskatchewan is launching a $6M province-wide campaign to ensure that families are not left hungry over the coming six months.  Donations can be made at: www.skfoodbanks.ca
In an average month the 32 Food Banks across our province support approximately 40,000 residents, a number that will skyrocket as our most economically vulnerable families experience layoffs due to COVID-19.
Laurie O'Connor, Executive Director of Saskatoon Food Bank & Learning Centre summarized the situation as, "a crisis unlike any we have ever experienced. As we witnessed in the recession in 2008, food banks were hard pressed to meet demand. We anticipate that the economic impact of COVID-19 will see thousands of people visiting us who never imagined they would be forced to rely on a food bank to survive." 
$100 WILL FEED TWO FAMILIES FOR A WEEK
Tens of thousands of Saskatchewan residents will be out of work due to this crisis. At the same time, food donations are decreasing as people make fewer trips to the supermarket and are more focused on securing food supplies for their own family.  Financial donations from the community will make an immediate difference.  A $100 donation will feed two families for a week, $400 will put food on the plates of eight families.
The need for social distancing has also decreased volunteer staffing levels and is requiring Food Bank teams to establish alternative distribution methods to minimize social contact.  Local Food Bank teams are also ramping up the creation of To-Go boxes for quick food hamper pick up.
John Bailey, CEO of Regina Food Bank has been working around the clock to source food and ramp up logistics in the face of the COVID-19 crisis; "Economic pressures will lead to a surge in demand on our food bank unlike anything our community has experienced before.  Hundreds of thousands of meals worth of food will be delivered to people, many of whom will never have considered that they would need to rely on a food bank. We will have to change the way we operate to meet the needs of our community, and we need the support of our community to make it happen."
Saskatchewan has a culture of giving, through volunteerism and financial support of causes that positively impact our communities.  Laurie O'Connor has seen this first-hand, "If there is one thing I have learned in my time at the food bank, it is that the generous spirit of the people of Saskatchewan is never more apparent than when the chips are down. And right now, we fear it's just the beginning. "
Contributions to the Food Banks of Saskatchewan Crisis Response fund can be made at:  www.skfoodbanks.ca
Food Banks of Saskatchewan (FBS) is the provincial association of food banks working together to build, support and strengthen relationships with the community to better serve and advocate on behalf of hungry and food insecure people across Saskatchewan. In 2019, FBS served approximately 40,000 people per month, 42% of them children, through foods banks reaching every part of the province https://skfoodbanks.ca/find-a-food-bank/ . The seven largest food banks are in Saskatoon, Regina, Prince Albert, Battlefords, Moose Jaw, Lac La Ronge and Rosthern. Food banks in Saskatoon and Regina provide the infrastructure for the provincial association.
For Additional Information or to discuss a major gift contribution:
Contact: [email protected]