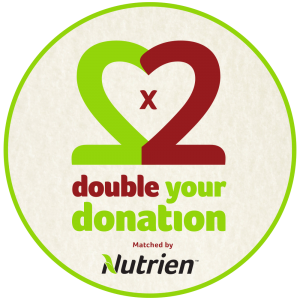 A Nutrien homegrown holiday tradition is matching your donation to the Food Banks of Saskatchewan. Make a donation to any food bank across the province, and Nutrien will make one too!
Nutrien is matching $250,000 in cash donations to help food banks ensure that families don't go hungry this holiday season. The campaign ends December 31, 2019, so early donors have a great opportunity to have their gifts matched.
Financial contributions allow food banks in your community to better respond to those in need. For children who are powerless to provide for themselves, for hard working moms and dads trying to provide for their family, and for seniors on fixed incomes, being able to access support from food banks make those difficult times a little easier.